---
Ever wonder what it's like to be a member of the NOAA Coast Survey team? We use the Coast Survey spotlight blog series as a way to periodically share the experiences of Coast Survey employees as they discuss their work, background, and advice.
---
"Coast Survey serves the public important information that has a real impact both to national commerce and to the individual."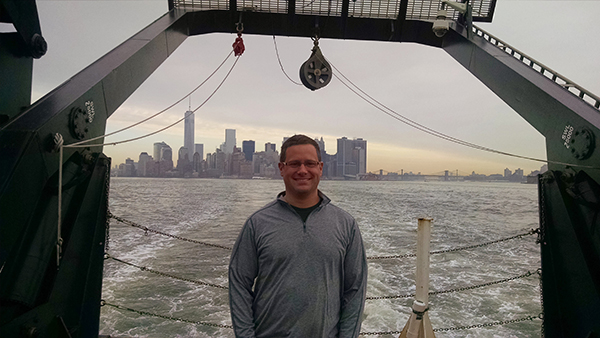 What is your job title, and how long have you worked for Coast Survey?
I am a physical scientist within Coast Survey's Hydrographic Systems and Technology Branch and the technical team lead for the National Bathymetric Source Project. I started working with Coast Survey as a NOAA Corps officer on the NOAA Ship Rude in 2007. While part of Coast Survey, I have participated in the development of seafloor acoustic backscatter from our hydrographic surveys and collecting bathymetry from NOAA's fisheries vessels. More recently, I participated in accepting new survey systems for NOAA's hydrographic fleet.
What were your experiences prior to working for Coast Survey?
Previously, I worked for the University of New Hampshire as a lead field engineer for the Open Ocean Aquaculture Project. My days were filled with engineering buoys and moorings, diving to maintain our deployed equipment and tend the fish, and driving and maintaining our boats.
What is a day in your job like?
My job is to solve problems. Whether it is developing algorithms or workflows, coding in python, providing direction for our team, or finding the resources to support the project, it all comes down to solving problems to get the best bathymetry to the right places as quickly as possible.
Why is this work important?
Bathymetry, which is to say the seafloor topography, has been identified as critical to our national infrastructure. Also, culturally, our country is in a significant transition from being product driven to being data driven (look at all the apps on your phone!). The National Bathymetric Source Project aims to serve the best available bathymetry to support NOAA, other federal agencies, and the public to meet this need for bathymetry as data. Coast Survey is well positioned to meet this new paradigm by applying our history and experience with hydrography, cartography, and customer needs to convey the right information in the right forms to the right places.
What aspects of your job are most exciting or rewarding to you?
I enjoy using physics-based hydrographic information to solve real problems by asking the right questions. Coast Survey serves the public important information that has a real impact both to national commerce and to the individual.
What advice would you give someone looking to pursue a career in your field?
The right answer is often clear (although perhaps not convenient) if you ask the right question. Don't be afraid to reexamine the underlying problem to search for a better question. This often requires a deep dive into technical details that can be intimidating, but I think you will find the result to be better founded than if built upon the provided assumptions.